home
history
photos
hours
CAPOEIRA TOPAZIO
---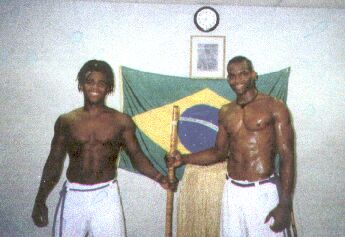 CLEBER "EXPLOSION" AND "KADINHO"


"MESTRE DINHO"



FOUNDER AND DIRECTOR:
Instructor Cleber and Kadinho began at the age of 16. At the age of 19 they traveled the world making Capoeira their Career by performing the cultural martial art all over Europe and South America. They arrived in the US under contract with Epcot center.

Cleber's nickname "Explosion" symbolizes his explosive presence in South Florida. In 1995 they began teaching Capoeira. Now, in 1999, the founders of The Brazilian Cultural Center are the pioneers of the Capoeira and Brazilian Culture.
---
BRAZILIAN CULTURE CENTER
1369 E. Sample Road
Pompano Beach, Florida
(954) 783 - 3612
E-mail: capoeira1@aol.com
---